March 7th 2009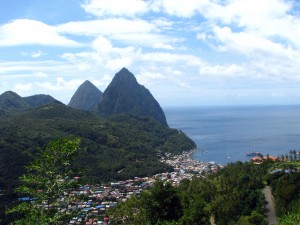 Castries – St. Lucia
We fell in love with this Jewel in the Caribbean. After we waited fruitlessly for the scooter guy who was operating on island time, we lucked out with Guys Car Rental (guysltd@hotmail.com). Elvis (not Presley) came up with a little Mitsubishi car. After a few quick tips, we headed off to Gros Islet at the very tip of the island, where we set eyes on the first stunning views of St. Lucia.
You see the Atlantic crashing on the west side and balmy Caribbean gently caressing the eastern shores. This is just past Raffles Golf and Country club – immaculate greens and obviously no waiting at $285 a round.
We turned around and threaded our Mitsubishi through the grid lock of Castries, the capital and headed south to Soufriere (Sulphur in French) home of the twin Pitons, Petit and Gros – the twin peaks made famous in Romancing the Stone. We wound up and down this hilly trek, it took all of 90 minutes to cover 37 km. A paved road all the way but enough pot holes to lose one's car in. A real driving challenge. In this part of the world you don't pave unnecessarily – roads are narrow, ditches are open and deep, and drivers become very cautious. The scenery on this hilly west coast was stunning- you had to stop so often just to capture another once in a lifetime shot.
We got in beach time and met up with another Canadian, Chester (from Chatham, Ont.) who has been spending 6 months every year for the last 30 years in this little paradise. He let us in on the local highlights – terrific scuba dive sites, a good scuba shop, good sailing, great fresh food. We were convinced just with the swim we had – warmest water yet, refreshing and cleansing too. We decided to check out the Caribbean's only (famous) drive-in volcano and sulphur hot springs. Bad mistake! It was inundated with tour groups. We turned turtle and headed back to Castries.
Dropped off the car at the airport, spotted a little Caribbean snack shack on the beach across the road and zeroed in on their local menu. With a nice cold Piton beer in hand, fresh rotis, chicken curry & hot sauce on our plates we watched the Barbados/British cricket match with a group of islanders.
St. Lucia, a definite destination for island lovers!
Related articles by Zemanta
2 Responses to:
"Travel_log_St Lucia_feb 2009"
This…

Have you been blogging long? Insider Q&A hears from economist who foresaw housing slump – Lansner on … is a great blog, you have a great writing style too. Found this post last Tuesday and i've been reading your blog since. I've subscribe…

This said on 25 May 2009 at 9:00 pm #
Leave a Reply